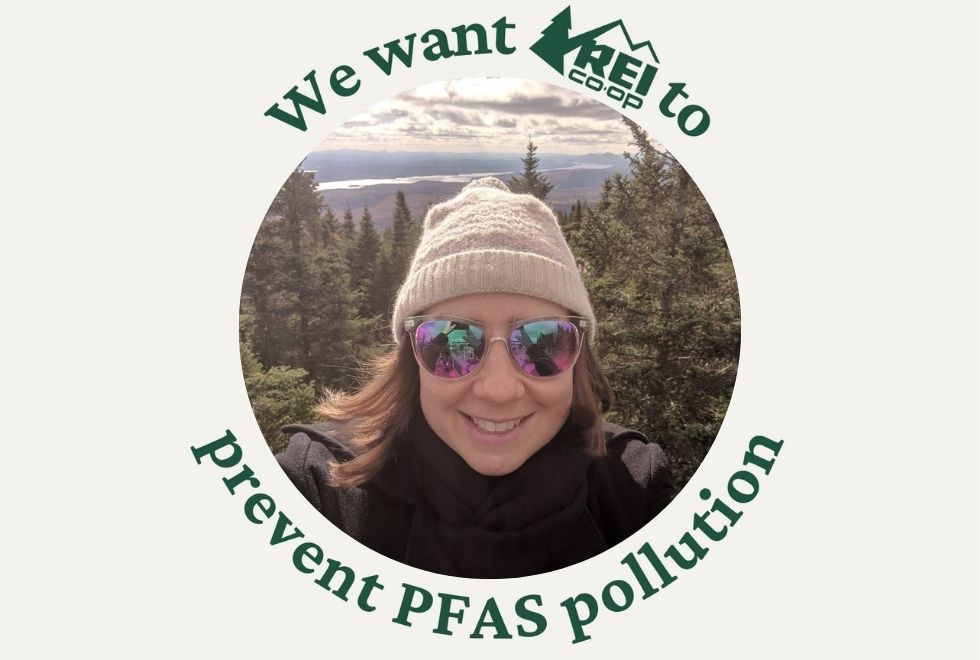 REI curates a green image and emphasizes sustainability with initiatives like opt-outside day – an alternative to Black Friday, where customers are encouraged to explore nature rather than shop in their stores. These core values attract eco-conscious customers. Unfortunately, REI still sells products that contain PFAS in their stores. PFAS, or polyfluoroalkyl substances, are incredibly persistent "forever chemicals" that build up in our bodies and the environment leading to severe health consequences including developmental delays in children, liver and kidney disease, thyroid dysregulation, premature hypertension, and various forms of cancer.
I spoke with a current member of REI's co-op, Michelle, a New England toddler mom and environmental advocate, about why she wants to see REI move away from dangerous PFAS. 
Michelle told me, "I first joined REI because of the brand's apparent attention to community safety and willingness to maintain a member-owned business model." She was particularly impressed by REI's efforts to promote sustainability. However, recent reports have shown that the company has failed to follow through on its promise to make eco-conscious products. 
Last month, the NRDC, Fashion FWD, and U.S. PIRG Education Fund released a scorecard evaluating top retail brands' policies to address the prevalence of PFAS in clothing. REI received a failing grade while Patagonia scored highest among all outdoor apparel brands with a B. The difference between the two was Patagonia's plan to phase out PFAS.
PFAS in products is of particular concern to Michelle because she has a young child and is expecting another. "There are so many things to be concerned about as a parent, and toxic chemicals in my son's raincoat should not be on the list.  Not only do I worry about the risk to his health; I worry for the person who had to work with the toxic chemicals making the coat in the first place." Her message to REI? "The time is now. Stop creating a market for these chemicals – for your employees, your customers, and our environment."  She sends a similar message to her fellow co-op members: "If you care, speak up."
On May 16th, the company will hold its annual member meeting, where leadership will address the co-op in a presentation on its 2023 goals. This is an opportunity for co-op members and other outdoor apparel shoppers to have their voices heard.
Send a message to REI today
!
Stay Informed
Get the latest updates and actions:
There was a problem processing your signup. Please try again.