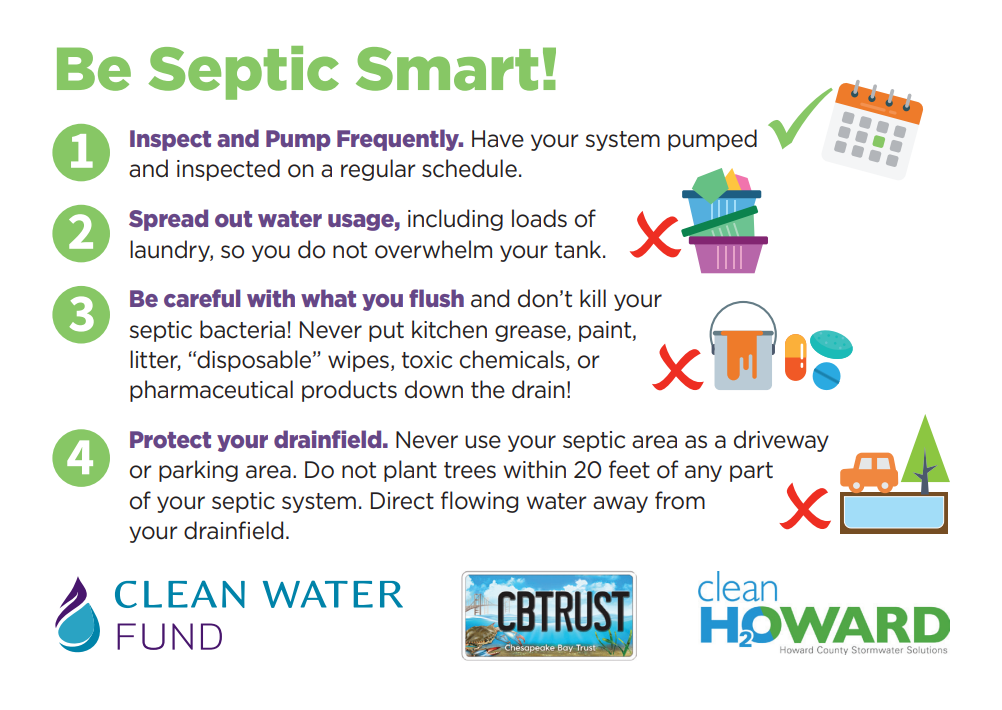 Your septic system is likely the most expensive appliance in your house, but are you taking care of it? Flushing the wrong things down the pipes, not sticking to a schedule of regular maintenance, and treating your drain field poorly are common reasons why a septic system fails prematurely. Fixing or replacing a failed or failing septic system is expensive, and while it is failed it is releasing untreated waste into nearby waterways or into your yard! 
A regular schedule of maintenance and treating your septic system well will prolong its life for the betterment of your home and surrounding waterways!
Howard County runs a program to help residents with pumpouts. For Howard County's program, check out Howard County Septic Savers.
Join us at one of 5 upcoming webinars to learn more about the important role that your septic system plays in keeping your home habitable and protecting our waterways.
Thursday, August 20th at 4:30 PM:
Register Here
Thursday, September 10th at 1:00 PM:
Register Here
Saturday, September 19 at 2:30 PM:
Register Here
Tuesday, October 13th at 12:00 PM:
Register Here
TBA
Stay Informed
Get the latest updates and actions:
There was a problem processing your signup. Please try again.