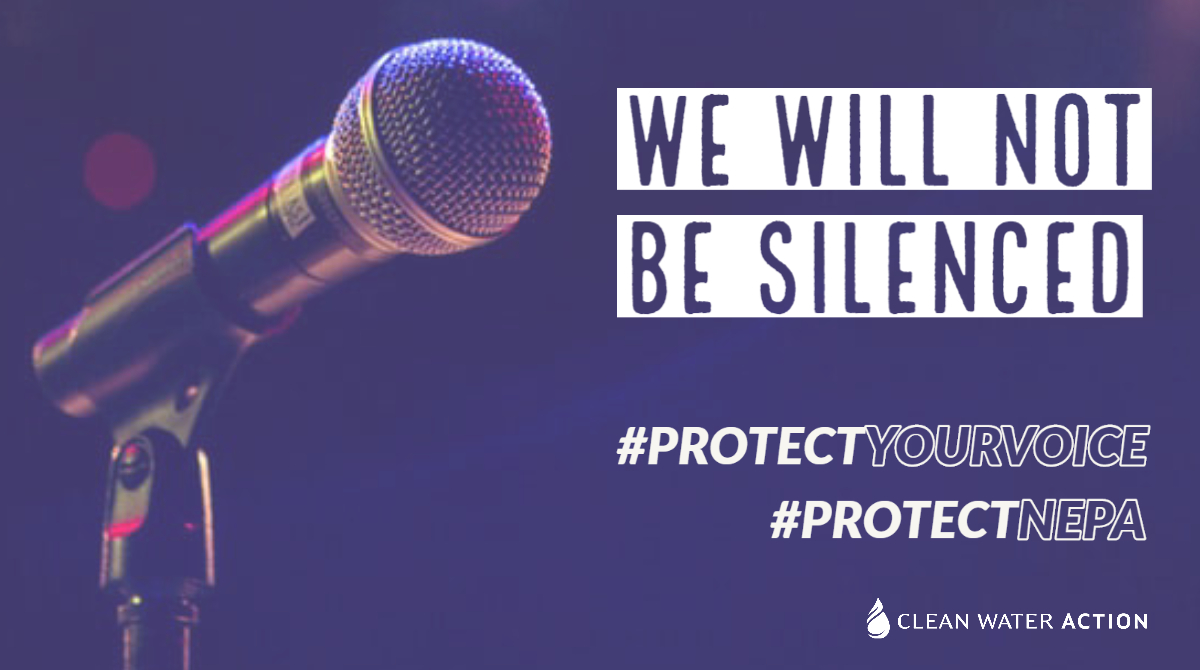 Today, Clean Water Action joined environmental advocates and community leaders from across the country for a rally and hearing in Washington, DC to speak out against the Trump Administration's rollbacks of the National Environmental Policy Act (NEPA). NEPA is our nation's foundational environmental law that requires the federal government to consider the environmental impacts of projects. 
The Trump administration has proposed changes that would dramatically weaken NEPA, making it harder for communities to speak out against risky or poorly planned projects. This means the government would be able to put a toxic trash incinerator near your neighborhood school or allow an oil company to pave over streams and fill-in wetlands so it can build a pipeline near your community - and you wouldn't have any way to express your opposition. 
Kim Gaddy, Clean Water Action's Environmental Justice Organizer, traveled from Newark, NJ to speak at the hearing. It's a shame that the Council on Environmental Quality's (CEQ) head Mary Neumayr left after her opening remarks without hearing any public comments. It's clear that the administration is not here to listen. But we will not be silenced! Check out Kim's full testimony below and help spread the word by sharing this post with others. You can also contact the CEQ to oppose the NEPA rollbacks here.
Testimony of Kim Gaddy of Clean Water Action at the Public Hearing on the Council of Environmental Quality's Update to its National Environmental Policy Act (NEPA) Regulations:
"My name is Kim Gaddy and I live in Newark, New Jersey. I am here on behalf of Clean Water Action and as a member of the Moving Forward Network. I am testifying today as a mother of three asthmatic children who can't escape from the pollution that challenges their health and our community every day.
I oppose CEQ'S proposed rule and any attempt to roll back NEPA.
Newark and all Environmental Justice (EJ) communities rely on NEPA to allow our voices to be heard in projects that impact our health. My community and all frontline communities must be given the opportunity to speak for themselves, participate and determine what their communities look like. NEPA provides a public process to identify and address health and environmental harms from proposed projects in EJ communities. CEQ'S proposal would roll back these protections. In addition, CEQ'S proposed rules will limit public participation in government decision making.
CEQ'S proposal will harm EJ communities by eliminating cumulative impacts analysis. My community is adjacent to the 3rd largest Port, approximately 18,000 trucks travels through the Port of Newark daily and 4,500 trucks travel our local roads in the South Ward of Newark. Frelinghuysen Avenue is home to multiple sources of pollution including a Superfund site, several recycling facilities, a metals company,  truck repair and paint shops and port container facilities to name a few.
These sources have multiple impacts on my health and quality of life of residents in the Dayton Street Neighborhood of Newark. The Dayton street neighborhood is home to 4,500+ Newark Housing Authority residents in senior buildings and family townhouses as well as residential homes.
Many of the residents suffer from asthma, cancer, respiratory and cardiovascular disorders. I experience the health and quality of life concerns with my family as well. Weequahic Park is located on Frelinghuysen Avenue and my family and I visit the park for recreation activities, fairs, concerts and just enjoying the park.
Unfortunately, we can't enjoy the parks much due to the pollution sources that surrounds the park. The park is located between several highways, railroad tracks, Port of Newark, Newark Airport, multiple polluting sources and a Superfund site.
I oppose CEQ'S attempt to eliminate consideration of cumulative impacts in NEPA.
NEPA's cumulative effects analysis is one of the few tools available that aims to disclose how a proposed project may add to past, existing and upcoming pollution burdens. Eliminating this analysis will allow project proponents and our federal governments to hide a projects real world effects since communities do not experience a projects pollution in isolation. 
CEQ'S proposal will harm EJ communities by reducing public participation in decision making. Quality reviews should be prioritized over fast and cheap reviews. CEQ'S changes will make it easier for industry to get ill-informed permits at the expense of EJ communities. CEQ'S proposal elevates industry interests by allowing project applicants to prepare their own environmental impact statements and relaxing conflict of interest policies for federal contractors.
I oppose CEQ'S attempt to reduce public participation and elevate industry interests in government decision making.
This rule making process has shut out EJ voices. CEQ only noticed two hearings, one in Denver and one in DC. No hearings were scheduled in EJ communities. Both hearings were held during the work week. No hearings were noticed for a weekend. CEQ'S proposal will result in more undisclosed and unmitigated pollution in my community.
I oppose CEQ'S proposed rule and attempt to roll back NEPA."
Learn more about the NEPA rollbacks here.
Stay Informed
Get the latest updates and actions:
There was a problem processing your signup. Please try again.