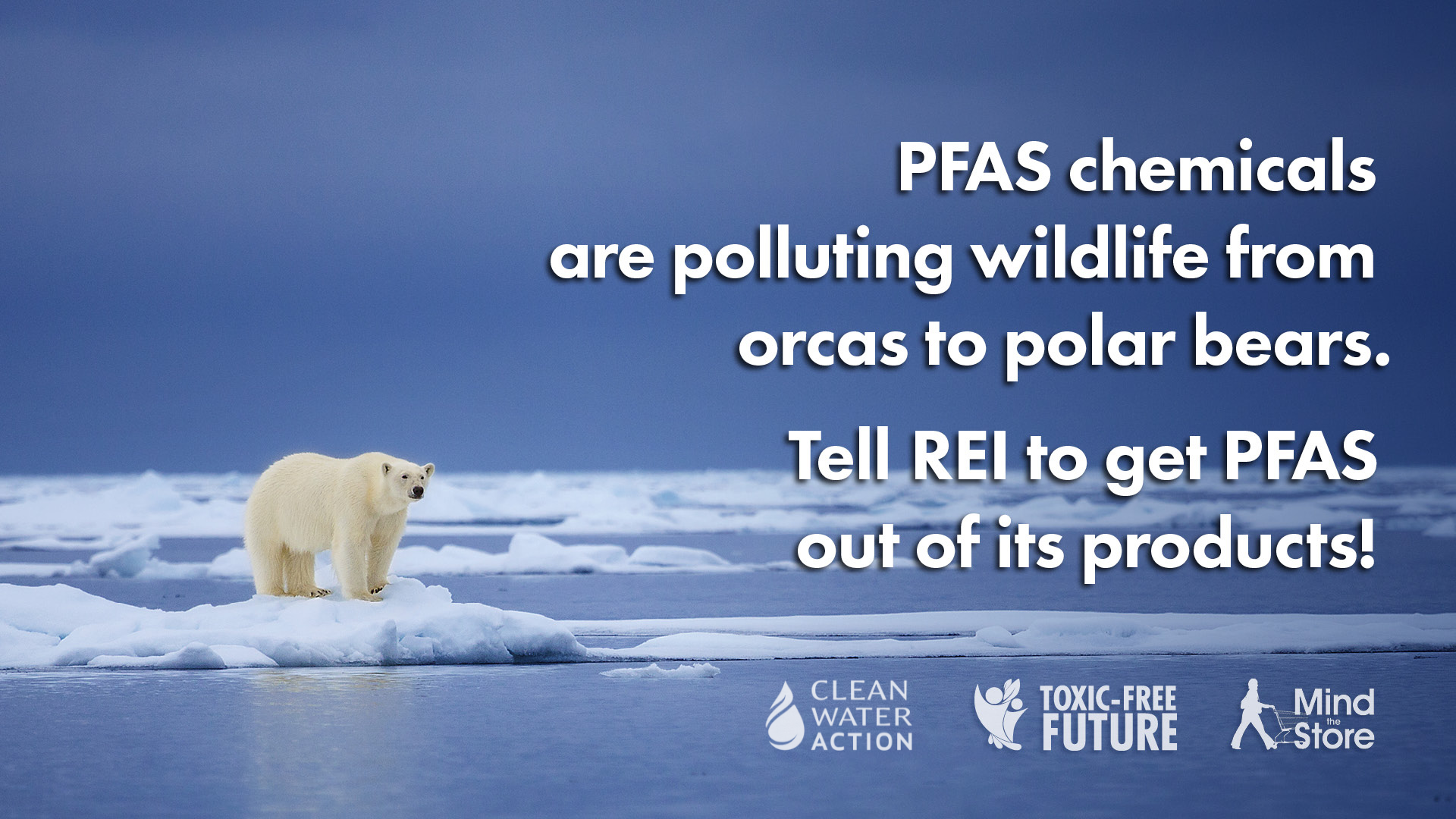 As one of the largest retailers in the outdoor recreation industry, REI is renowned for its top-quality gear, stewardship of the outdoors, and sustainable business. The company has a long history of putting people and the planet before profits and building the REI membership community on a strong and bold commitment to the movement to protect and share life outdoors.
While 21.5 million members have trusted REI's products, recent testing identified PFAS (per- and polyfluoroalkyl substances) chemicals in popular REI brand-name jackets, including chemicals banned for manufacture in the United States and European Union! Tell REI: Phase PFAS Out of its Products.
Exposures to PFAS (also known as "forever chemicals") have been linked with a wide range of health problems including cancer, a weaker immune system, and increased cholesterol by a growing body of scientific research. And last May, a peer-reviewed study co-authored by Toxic-Free Future found PFAS in 100% of breast milk samples in and around REI's headquarters city of Seattle. This is the result of the toxic trail of pollution left by the production, use, and disposal of PFAS to make these outdoor products. From the frontline communities who drink the water around manufacturing factories, retail workers and consumers, the communities around the landfill or incinerator where the products continue to contaminate soil, water, and air, to wildlife spanning from the Arctic all the way to Mount Everest, no one is safe from exposure to these dangerous chemicals.
Recognizing this alarming public health and environmental issue, Clean Water Action and allies at the Mind the Store campaign have been urging REI and other retailers to ban PFAS in outdoor apparel. To date, there have been more than 110,000 petition signatures and emails from REI customers, letters from more than 100 local, state, and national organizations calling on the company to lead the outdoor apparel industry away from the entire class of PFAS. 
Just recently REI's home state of Washington passed and signed a bill into law that tackles PFAS in a broad range of products, including apparel, by 2025. 
Despite the growing calls for leadership on the PFAS crisis, REI has not provided a meaningful response. In an April 2022 scorecard released by NRDC, Fashion FWD, and U.S. PIRG Education Fund, REI received a failing 'F' grade. The scorecard ranked policy commitments from 30 popular retail and apparel brands, and REI has an incomplete commitment that excluded many PFAS. In comparison, one of REI's major competitors, Patagonia earned a 'B' with a commitment to phase out all PFAS in all products by 2024. Why can't REI do the same?
As REI's annual member meeting fast approaches, I interviewed Clean Water staff members who are REI members to get know why getting REI to address this issue at the meeting is important to them:
"Like most families, my family engages in physical activity as a way of staying healthy—and we go outdoors because we enjoy the beauty of the outdoors. We liked to swim, hike or bike around Boston. There is a big REI store in the Fenway near me, and, for years, it has been my go-to place for winter jackets and exercise gear", said Laura Spark, Massachusetts Senior Policy Advocate. "But it doesn't make any sense to wear clothes coated with toxic chemicals that could harm us and the environment. REI should care about its workers, its customers and the environment. That's why REI should remove PFAS from its products and require all of its suppliers to be PFAS-free."
"Getting to be outside feels as essential to me as food and shelter--outdoors activities keep me healthy and fuel my soul. I've been an REI member for about 20 years because REI has great products and I like the membership rebate", said Elizabeth Saunders, Massachusetts State Director. "The last time I bought hiking boots, I read that Keen is getting PFAS out of its footwear, so I tried on all the Keen boots before anything else, and luckily one of them fit me. I hate that REI has PFAS in its clothing and gear. Now that I know how much PFAS must be in the store, it makes me not want to go there or buy any outdoor gear. My question for REI--Will you put our health first by using all the science available to get PFAS out of your products?"
"I love the outdoors, and am an REI member because of their commitment to running a business ethically as well as their contributions to preserving outdoor spaces and making sure they're accessible", says Maureo Fernández y Mora, Massachusetts Associate Director, "But it's hard to stomach the fact that they're not moving as quickly on PFAS as some of their competitors. REI is a company that has all the reasons in the world to lead the fight against PFAS. PFAS chemicals can destroy so much of what outdoors enthusiasts fight to protect. Not only is it the right thing for REI to do. In my opinion, it's the only logical course of action."
REI's selling of products laden with chemicals that contaminate our bodies, communities, workers, and the planet is clearly out of step with its commitment to "purpose before profits" and "the long-term interests of [its] members and community." In the member meeting next month, it is our demand that REI must respond to the calls for action from its 110,000 customers and members, and more than 100 local, state, and national environmental and public health groups. 
Our communities and planet need REI to lead the outdoor apparel industry away from PFAS. Contact REI today and urge them to phase PFAS out of its products!
Stay Informed
Get the latest updates and actions:
There was a problem processing your signup. Please try again.